Many people ask me what they should eat before and after a workout. It's an excellent question, because it really does make a difference in terms of your performance and your recovery.
Not skipping the carbs is important for both pre and post-workout, while protein is particularly important post-workout. Even if you're on a low-carb diet you can still make sure you allocate your carbs around your exercise sessions to make sure you're getting the most from your workouts.
Below I'm discussing some ideas for pre and post workout foods, as well as food timing to optimise your performance and your recovery.
Pre-workout Ideas
Carbohydrates are the key here, as they're the best fuel for your muscles. Of course, quantity and timing also matter, as no-one wants to workout immediately after a large meal. As you can imagine, the benefits will be outweighed by how full and sluggish you feel!
Ideally you should aim to fuel your body 1 to 4 hours before your workout, depending on how your body digests food (everyone's a little different). The size of your pre-work meals is something you may like to experiment with, but I find that something small usually works well for me.
Some suggestions:
Overnight Vanilla Oats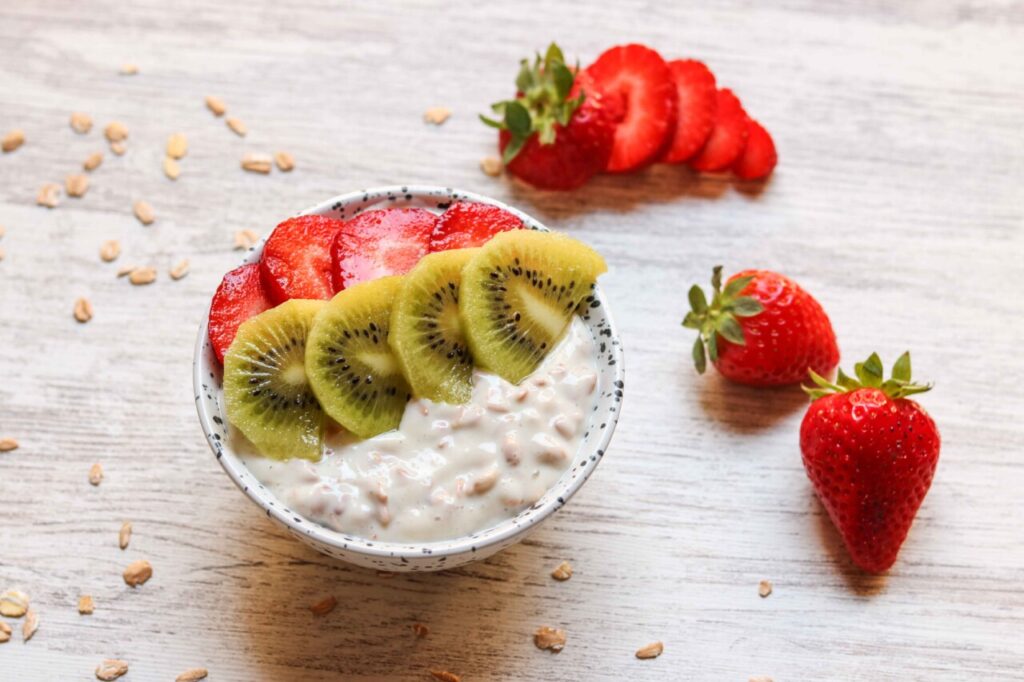 This is a great pre-workout meal for when you're feeling particularly hungry and your workout is a couple of hours away. Have them ready the night before and you'll be thanking your thoughtful past-self for being so awesome!
Serves: 2. Prep: 5 mins. Cook: 0 mins.
Nutrition per serving: 249 kcal, 5g Fats 41g Carbs, 9g Protein.
Ingredients:
1 ½ cup (350ml) vanilla yoghurt, soy or regular
5 tbsp. (30g) rolled oats
1 tbsp. honey
2-4 strawberries, sliced
1 kiwi, sliced
Directions:
In the evening, mix the yoghurt and rolled oats, then refrigerate overnight in a jar. In the morning, add the honey and mix well. Transfer into serving bowls and serve topped with fresh strawberries and kiwi.
Banana choc bites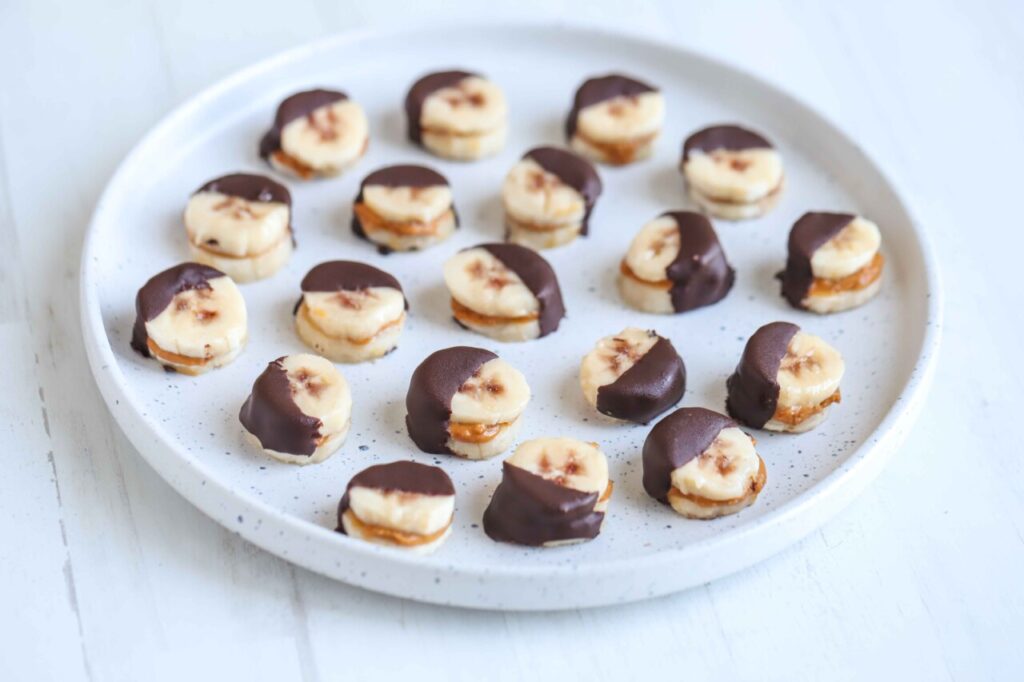 A great pre-workout boost for when you're close to your workout time (say, an hour or so away) but you're not feeling particularly hungry. 4-6 of these bites will increase your glycogen stores and have you ready to go!
Makes: 30 bites. Prep: 15 mins. Chill: 75 mins.
Nutrition per 2 bites: 99 kcal, 6g Fats, 12g Carbs, 2g Protein.
Ingredients:
3 ripe bananas
⅓ cup (85g) natural peanut butter
½ cup (90g) dark chocolate chips
2 tsp. coconut oil
Directions:
Peel and slice the bananas. Line a tray or chopping board with baking paper. Place about ½ teaspoon of peanut butter onto the banana slices and top with another banana slice to make a little 'sandwich'. You should be able to make around 30 sandwiches.
Place the bananas on the prepared baking paper and store in the freezer for about 1 hour. Next, melt the chocolate chips and coconut oil in the microwave or using the water bath method. Once the chocolate is melted, dip each frozen banana sandwich into the melted chocolate so that half of it is coated.
Place the chocolate covered sandwiches back on the baking paper platter, and into the freezer for another 15-20 minutes. Once the chocolate is set, you can transfer the bananas into a container and store in the freezer for up to 1-2 months. The longer the bananas stay in the freezer, the harder they will get. So remove them from the freezer for about 5 minutes before eating.
Post-workout Ideas
Eating the right macronutrients soon after you exercise will help your body recover faster and grow your muscles more effectively. As I mentioned, it is important to eat both carbs and protein after you workout.
Post-workout meal timing is more important than pre-workout meal timing, as you have a specific window of time to avoid muscle-breakdown. The general rule of thumb has always been to eat within an hour after your workout, but recent research is suggesting that information is actually based on men's bodies, and that women's window of time is actually 30 minutes!
Keep it simple and eat as soon as you can!
Some suggestions:
If you have the appetite and you've timed your workouts right, you could have your regular lunch or dinner that includes both carbohydrates and good quality protein. Check out these post workout meals I've previously provided on my blog, each provide a good mix of protein and carbs.
My current workout schedule means that I've usually finished my workouts by mid-morning, so it's often not time to eat a proper meal. Also, I'm not always particularly hungry post-workout. My solution is to use smoothies as a go-to, here's one of my favourites.
Green Glow Protein Smoothie
This is a great solution for when you want some post-workout nutrition but you're really not feeling like sitting down to a larger meal!
Serves: 1. Prep: 5 mins. Cook: 0 mins.
Nutrition per serving: 350 kcal, 12g Fats, 34g Carbs, 29g Protein.
Ingredients:
1 small banana
1 cup spinach
1 cup kale
1 tbsp. almond butter
⅔ cup (150ml) coconut water
1 scoop (25g) vanilla protein powder (or your favourite good quality protein powder)
Directions:
Place all ingredients into a high-speed blender and blitz until smooth. Serve immediately.
Of course, you should also be drinking plenty of water after a workout (even if you don't feel particularly thirsty) to reduce the chance of headaches and dehydration, so don't forget your water bottle!
Pay attention to your body to find what foods work best for you before and after exercise, so that you can ensure you're recovering well and getting the most from each workout.