Intense workouts require good quality post-workout meals to properly repair and grow your muscles. While some people who are trying to lose weight want to skip their post-workout meal, the fact is we absolutely need the protein and carbs for repair and recovery, and it's especially important for women!
Eating the right macronutrients soon after you exercise will help your body recover faster and grow your muscles more effectively. It is particularly important to eat carbs and protein after you workout.
In a nutshell, proper post-workout nutrition helps your body:
Decrease muscle protein breakdown.
Increase muscle growth.
Restore glycogen stores.
Enhance recovery.
Of course, you should also be drinking plenty of water after a workout (even if you don't feel particularly thirsty) in order to recover any water loss from sweat, and to reduce the chance of headaches and dehydration.
Below are a few of my "go-to" post-workout favourites. For those who currently skip their post workout meals, don't be surprised if you find improved recovery after you add a couple of these easy-to-prepare meals into your routine.
My only rule when choosing post-workout recipes, aside from them being high in protein and a good source of carbohydrate, is for them to be tasty and super easy to make!
Eggs Fried on Tomatoes with Tuna
This one is good for when I want a cooked post-workout feed, but I don't feel like lugging out a recipe book and dealing with anything complicated. It's so simple you can change it around a bit based on personal preference (I sometimes throw in a handful of spinach, just to get those greens in there).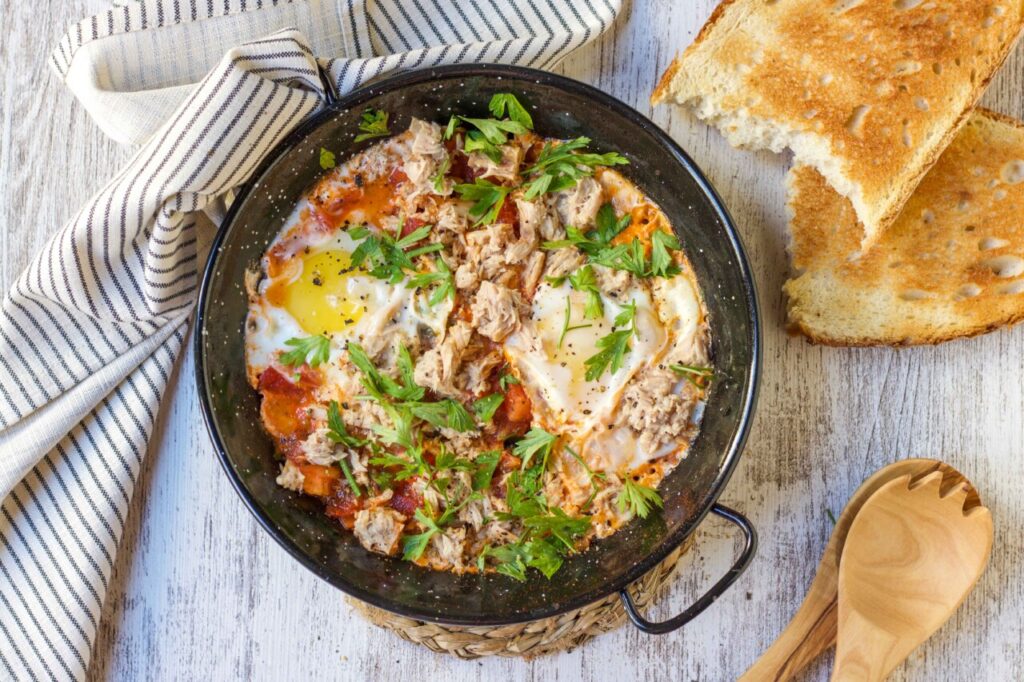 Ingredients:
• 1 large tomato
• 1 tsp. coconut oil
• 2 eggs
• 80g tuna in brine
• a pinch of oregano
• a pinch of chili flakes
• parsley, chopped, to serve (if you're feeling fancy).
What to do:
Chop the tomato into cubes. Heat the oil in a small frying pan, add the chopped tomato and fry over high heat for about 3 minutes. Create 2 gaps in the tomato and break the eggs into them. Season with salt and pepper. Arrange pieces of tuna on top. Then sprinkle with dried oregano and optionally chili flakes. Fry for a further 3 minutes or until the egg whites are cooked. Serve with fresh parsley.
Serves: 1. Prep: 5 mins. Cook: 5 mins
Nutrition per serving: 307 kcal, 15g Fats, 8g Carbs, 32g Protein.
Summer Smoothie Protein Bowl
Smoothie bowls are great for me because I don't always feel like eating after a workout! It's a delicious and nutritious compromise 🙂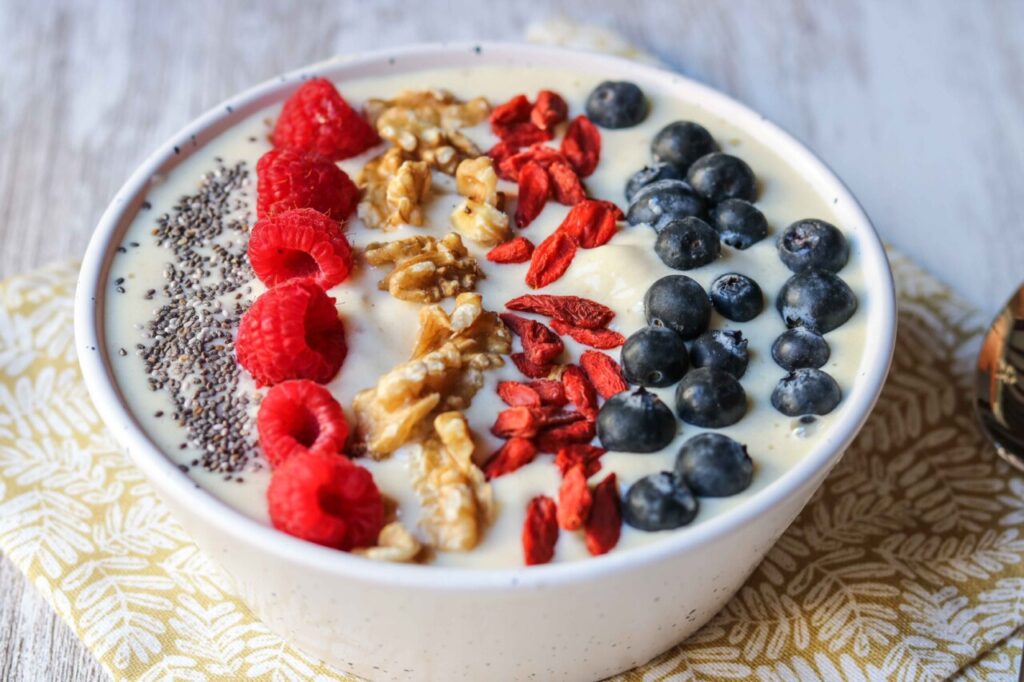 Ingredients:
• 2 medium peaches, chopped, frozen
• 1 medium banana, sliced, frozen
• ¾ cup (190g) natural yogurt
• ½ cup (125ml) coconut water
• 1 scoop (25g) vanilla protein powder
Optional toppings:
• fresh berries
• Goji berries
• walnuts
• chia seeds
• muesli
What to do:
Place all ingredients in a high-speed blender and blitz until smooth. Divide between 2 bowls, add your favourite toppings and serve straight away.
Serves: 2. Prep: 10 mins. Cook: 0 mins.
Nutrition per serving: 252 kcal, 5g Fats, 36g Carbs, 18g Protein (Note: the nutrition breakdown does not include optional toppings.)
Post-Workout Potato Pancakes
What do you think of savoury pancakes? Sometimes I'm definitely in the mood for them, and while these require a little more prep than the other recipes, they are still fairly easy and so delicious.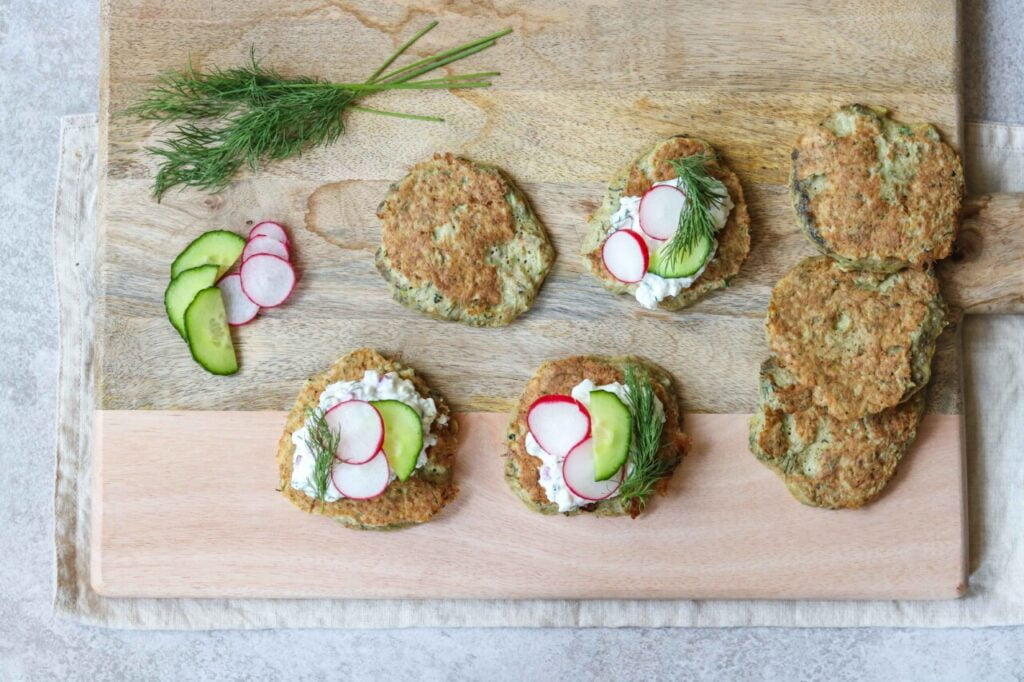 Ingredients for the pancakes:
• ⅝ cup (140g) potatoes, peeled and grated
• ¼ cup (50g) zucchini, grated
• 1 egg
• ½ shallot, chopped
• 2 tbsp. dill, chopped
• 2 tbsp. spelt flour
For the toppings:
• ⅕ cup (50g) cottage cheese
• 1 tbsp. natural yogurt
• 2 radishes, chopped
• 1 tbsp. dill, chopped
• ½ shallot, chopped
What to do:
Wash, peel and grate the potatoes using the finest grooves on your grater. Wash and grate the zucchini as well. Place in a bowl and add in the egg, shallot, dill, flour and salt and pepper. Mix well until combined to make the pancake batter. Heat up a non-stick frying pan and fry small pancakes for 3 minutes, then flip and fry for another 1 minute. Finely chop the radish and the other half of the shallot. Mix in with the dill, cheese, and yogurt. Season to taste with salt and pepper. Serve the pancakes warm with the cheese mix on top.
Serves: 1. Prep: 10 mins. Cook: 10 mins.
Nutrition per serving: 502 kcal, 20g Fats, 56g Carbs, 28g Protein.
Strawberry Protein Muffins
I love making batches of these muffins in advance so I don't have to cook too often! They're an excellent post-workout meal/snack when you don't feel like eating too much. They have stacks of protein in every bite, are very satisfying for the sweet tooth, and you can store them in your fridge for up to a week!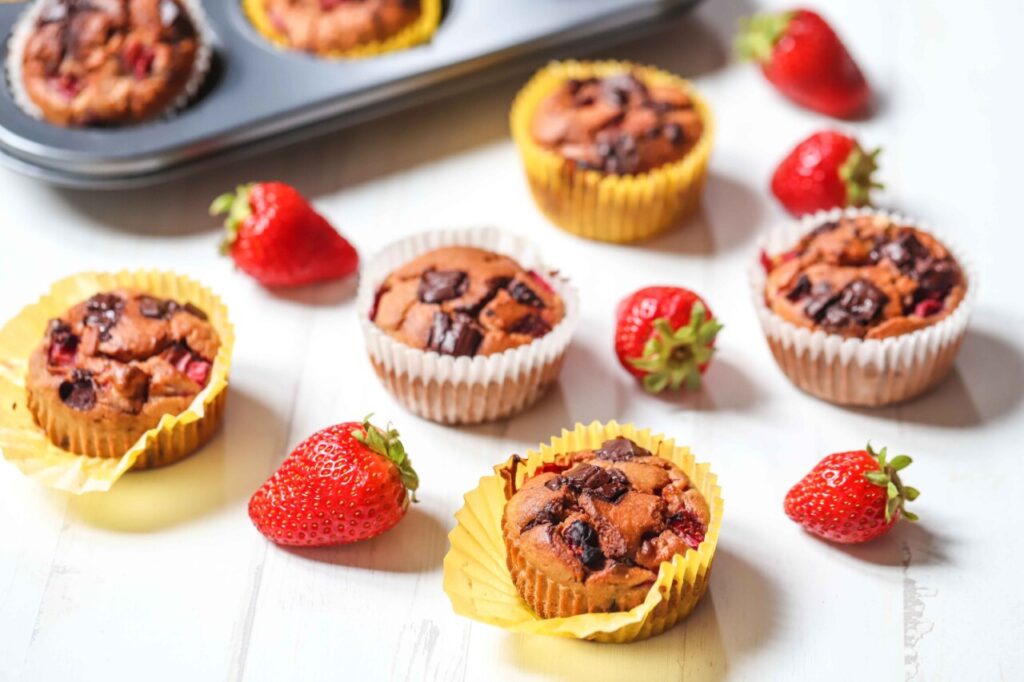 Ingredients:
• 1 cup (120g) oat flour
• 1⁄4 cup (25g) vanilla protein powder
• 1 tbsp. lemon juice
• zest of 1⁄2 a lemon
• 2 tbsp. stevia
• 1⁄2 tsp. baking soda
• pinch sea salt
• pinch cinnamon
• 1 tbsp. coconut oil, melted
• 3⁄4 cup egg whites (around 3 eggs)
• 2 tbsp. Unsweetened almond milk
• 1⁄2 cup (125g) non-fat Greek yogurt
• 1 tsp. vanilla extract
• 1⁄2 cup (100g) strawberries, chopped into small pieces
• 1⁄4 cup (45g) 75% dark chocolate, chopped
What to do:
Preheat oven to 350°F (180°C). Mix all dry ingredients, except the chocolate chips, and then mix in all wet ingredients. Stir until a smooth batter is formed, then lightly stir in strawberries and chocolate chips (leave a few aside to top the muffins). Line a muffin tray with muffin liners and spray with oil. Make sure you spray the liners (paper or silicone), or the muffins will stick. Pour the batter evenly into the muffin tin. Drop 3-5 mini chocolate chips on top of each muffin. Bake the muffins for 23-25 minutes or until the muffins are cooked through and the edges browned. Remove from the oven, and let the muffins cool before serving.
Makes: 12. Prep: 10 mins. Cook: 25 mins
Nutrition per muffin: 91 kcal, 4g Fats, 9g Carbs, 6g Protein.
🧁🧁
If you give any of these recipes a try, please let me know what you think! Pay attention to your body to find what healthy foods work best for you post-workout, so that you can ensure you're recovering well and getting the most from each workout.
Happy eating!