There are so many reasons to love energy balls! These sweet, no-bake treats are so easy to throw together, and you can make them with some seriously wholesome ingredients. The fibre content means they're quite filling, particularly when compared to the more processed "over the counter" type sweet foods. I love to have some energy balls in the house as a 'go to' snack, particularly when I feel like I really shouldn't be reaching for that chocolate bar.
Another great thing about energy balls is that they're so versatile! These recipes are reasonably low carb, so they're great for non-workout days. But if you want to refuel after a workout, you can always increase the carb and protein content of these recipes by adding some protein powder and a couple of dates into the mix. Don't forget that both carbs and protein are important for recovery, especially after strength-based workouts.
Here are 3 of my favourite, super easy energy ball recipes!
Healthy Ferrero Rocher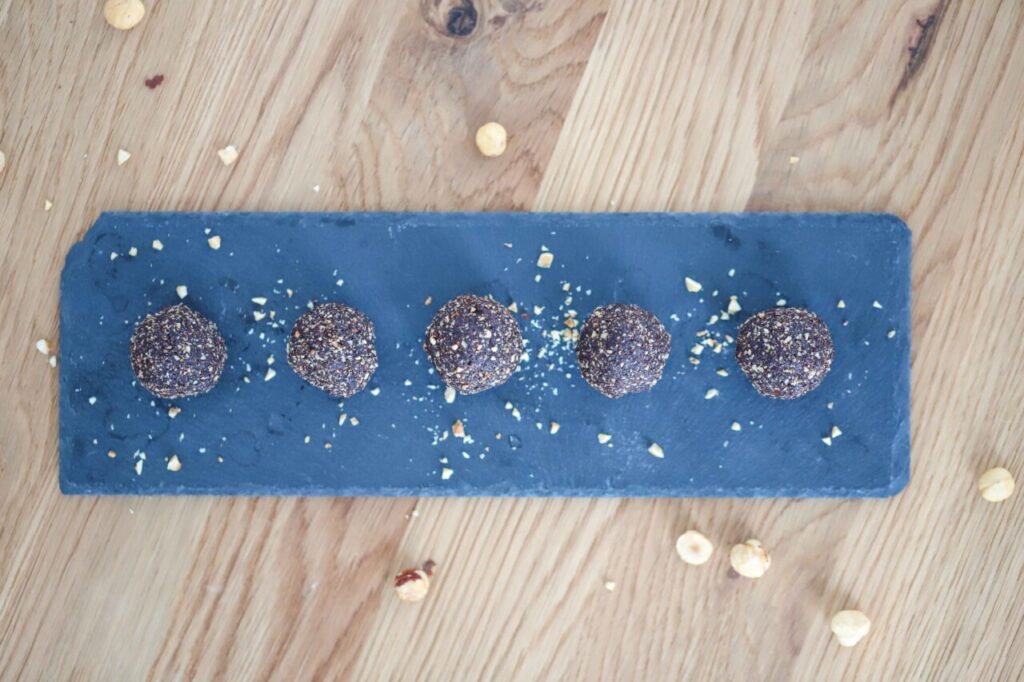 Makes: 12
Prep: 10 mins
Cook: 0 mins
Nutrition per energy ball:
91 kcal
8g Fats
6g Carbs
2g Protein
Ingredients:
• 1 cup (135g) + 12 hazelnuts
• 2 tbsp. cocoa powder
• 2 tbsp. agave syrup
• 1 tsp. vanilla extract
• pinch of sea salt
• 2 tbsp. dark chocolate chunks
What to do:
Add 1 cup of hazelnuts into a food processor and blitz until chopped into tiny pieces. Next, add the cacao powder, agave syrup, vanilla extract, sea salt and chocolate. Pulse until all the ingredients start to stick together. If the mixture is too dry, add 1-2 teaspoon of water. Roll the mixture into bite-size balls and insert one hazelnut into the centre of each ball. Serve straight away or store in the fridge for later.
Almond Energy Balls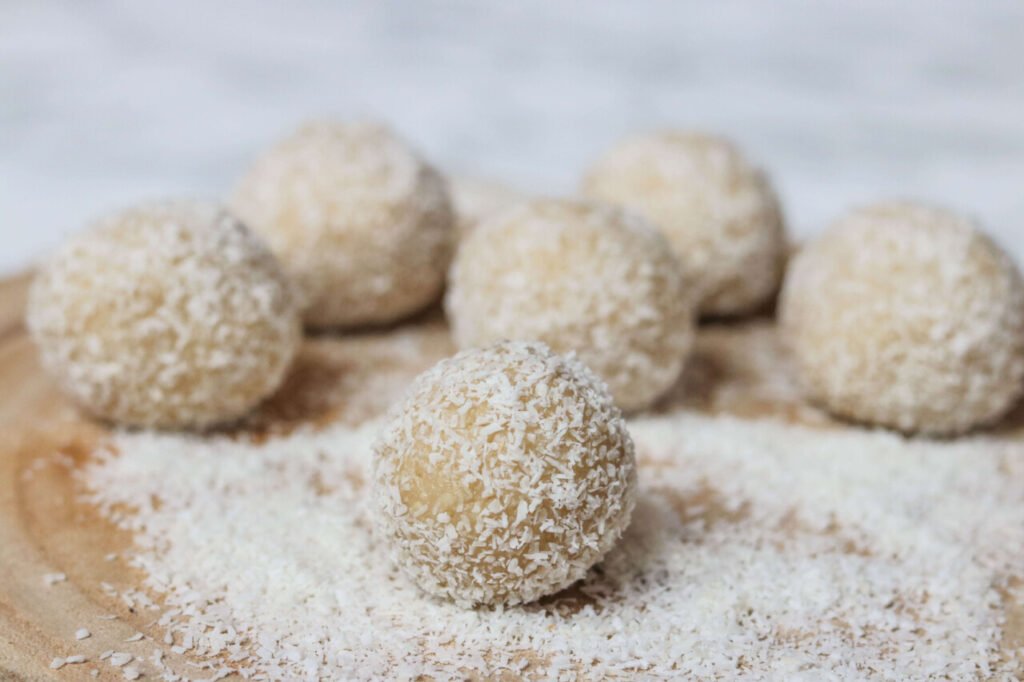 Makes: 6
Prep: 10 mins
Cook: 0 mins
Nutrition per energy ball:
178 kcal
14g Fats
8g Carbs
6g Protein
Ingredients:
• 1 cup (120g) almond meal
• 2 tbsp. of honey (or maple syrup)
• 1 tsp. coconut oil, melted
• ½ tsp. lemon juice (optional)
• 2 tbsp. desiccated coconut or poppy seeds
What to do:
Place the almond flour into a bowl, add honey and oil and mix well using your hand, pressing firmly. Form 6 balls. You can also add half a teaspoon of lemon juice to break the sweetness. Roll the energy balls in coconut poppy seeds.
Vanilla and Coconut Truffle Energy Balls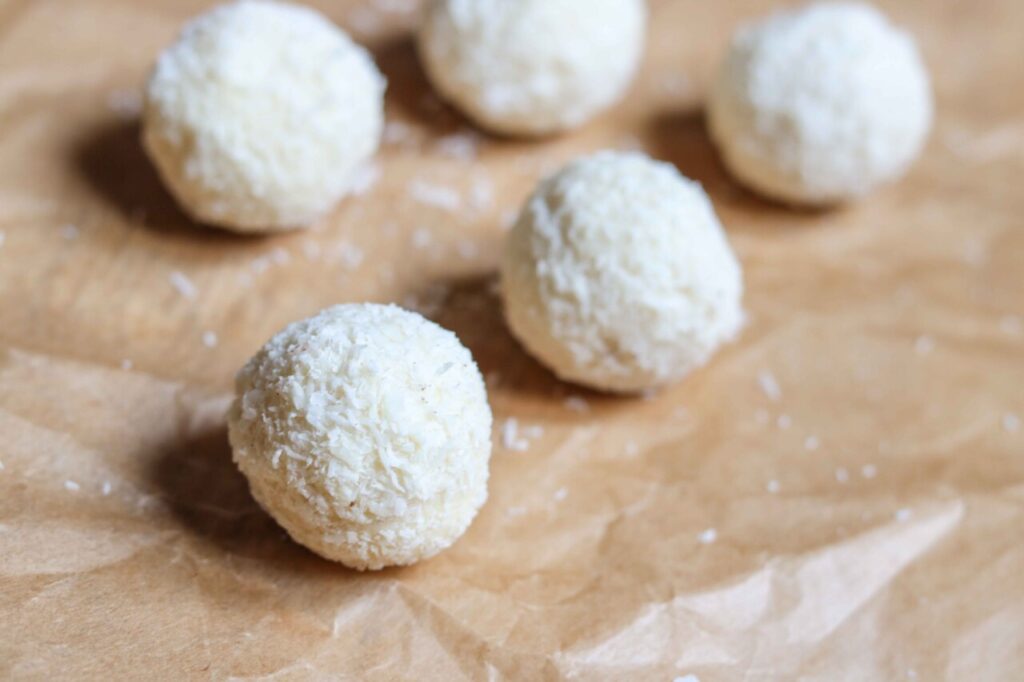 Makes: 10
Prep: 10 mins
Chill: 60 mins
Nutrition per energy ball:
222 kcal
21g Fats
6g Carbs
1g Protein
Ingredients:
• 2 cups (200g) desiccated coconut + 3 tbsp.
• ¼ cup (60ml) coconut milk, canned
• ¼ cup (50g) coconut oil
• ½ tsp vanilla extract
• 3 tbsp. maple syrup
What to do:
Slightly heat the oils and coconut milk in a pot over low heat. Add the 200g desiccated coconut, vanilla extract and maple syrup, then mix well. Transfer into a container and chill in the fridge for 1 hour. Once the batter is firm, form around 10 balls and roll them in the extra coconut, eat straight away or store in the fridge until necessary.

If you give any of these recipes a try, please let me know what you think! In the meantime, don't forget to subscribe to my YouTube channel and tick the notification bell, so you never miss one of my new workouts. You can also sign up for workout calendars that I send out for free every month, and of course feel free to follow me on Instagram and Facebook.
Happy snacking!