There are plenty of vegan athletes and fitness-lovers who are living meat-free while getting all the macronutrients they need; protein, carbohydrates and fats, plus a tonne of micronutrients to perform at optimum levels.
While I do include a moderate amount of meat in my diet, I understand that option isn't for everyone – and the good news is that it really doesn't need to be! Furthermore, even those of us who are not vegetarian can absolutely benefit from including some plant-based meals into our meal planning.
Here are a few of my favourite protein-packed plant-based recipes, let me know what you think of them!
Fluffy Berry Pancakes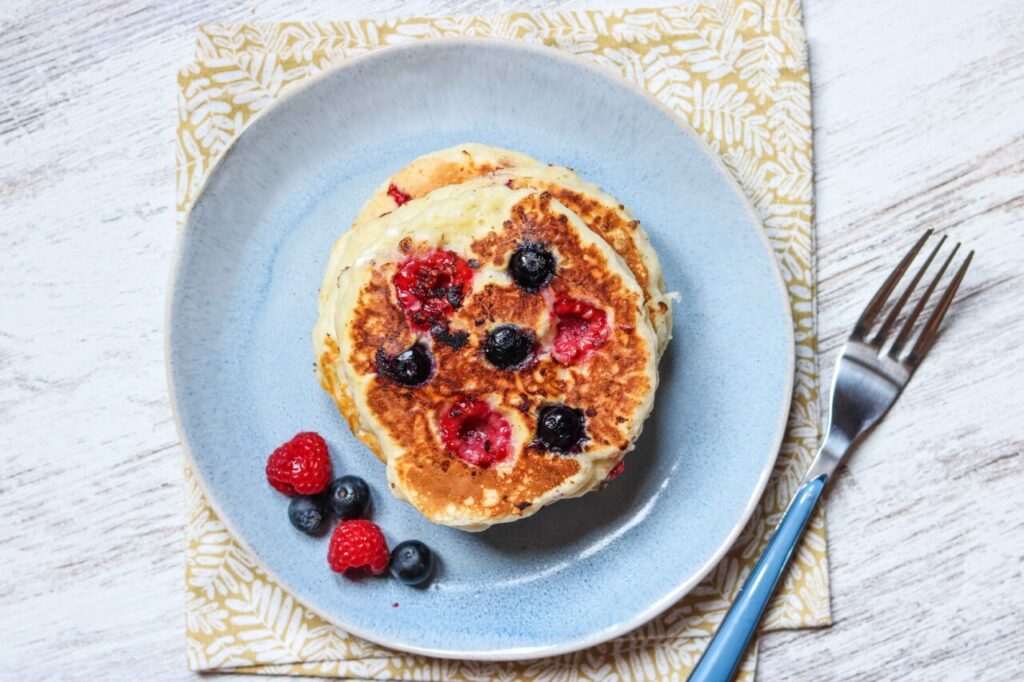 These pancakes are the perfect pre-workout meal that's packed with those satisfying low-GI carbs that slowly release energy to fuel any type of workout.
What you need:
1 cup (200g) cottage cheese
• 2 eggs
• 2 tbsp. coconut sugar
• 2 tbsp. coconut oil, melted
• ⅓ cup (80ml) coconut milk
• 1 ⅓ cup (160g) wheat flour
• 2 tsp. baking powder
• around half a punnet of raspberries
• around half a punnet of blueberries
What to do:
Place the cottage cheese in a bowl and crush it with a fork. Add the eggs, sugar and whisk well, then pour in the oil and milk and mix again. Mix in the flour and baking powder until smooth. Heat a dry non-stick pan on medium heat, and place 2 tablespoons of the dough per one pancake onto the pan. Level the surface and arrange a few berries over the top. Fry for about 2.5 minutes over medium heat until grown slightly and browned. Flip over and cook for another 2-2.5 minutes until browned on the other side. Serve warm.
Overnight Vanilla Yoghurt Oats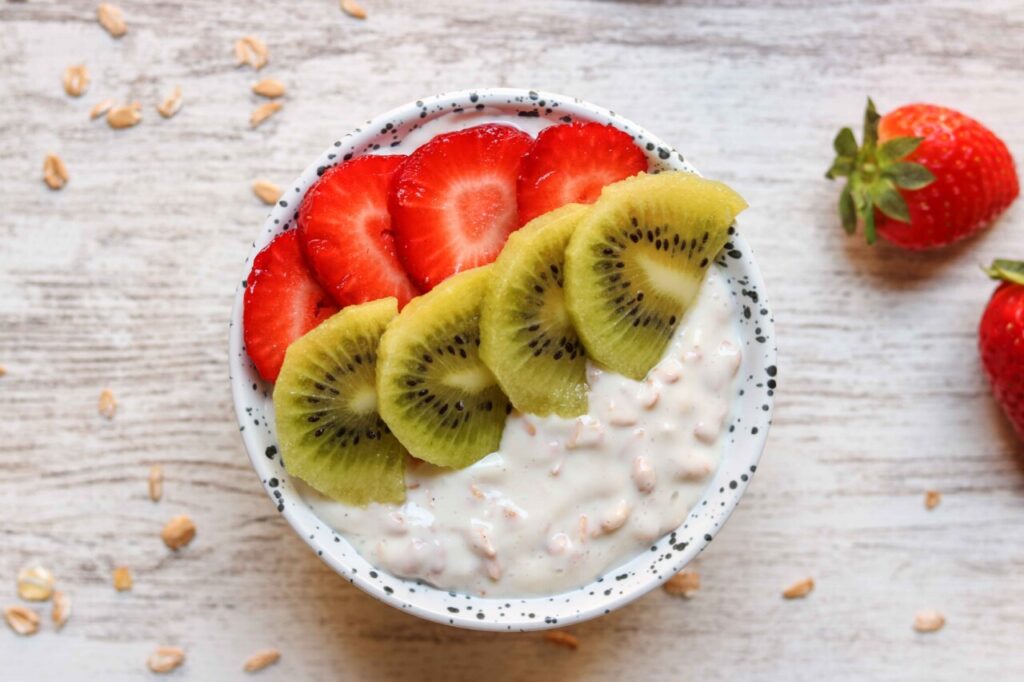 These overnight oats are a great source of protein and carbohydrate to help repair muscles and replenish glycogen stores, making it a great post workout meal that you can have ready the night before (and super easy to make!).
What you need:
• 1 ½ cup (350ml) vanilla yoghurt, soy or normal.
• 5 tbsp. (30g) rolled oats
• 1 tbsp. honey
• 2-4 strawberries, sliced
• 1 kiwi, sliced
What to do:
In the evening, mix the yogurt and rolled oats, then refrigerate overnight in a jar. In the morning, add the honey and mix well. Transfer into serving bowls and serve topped with fresh strawberries and kiwi. Yum!
Sweet Potato Pancakes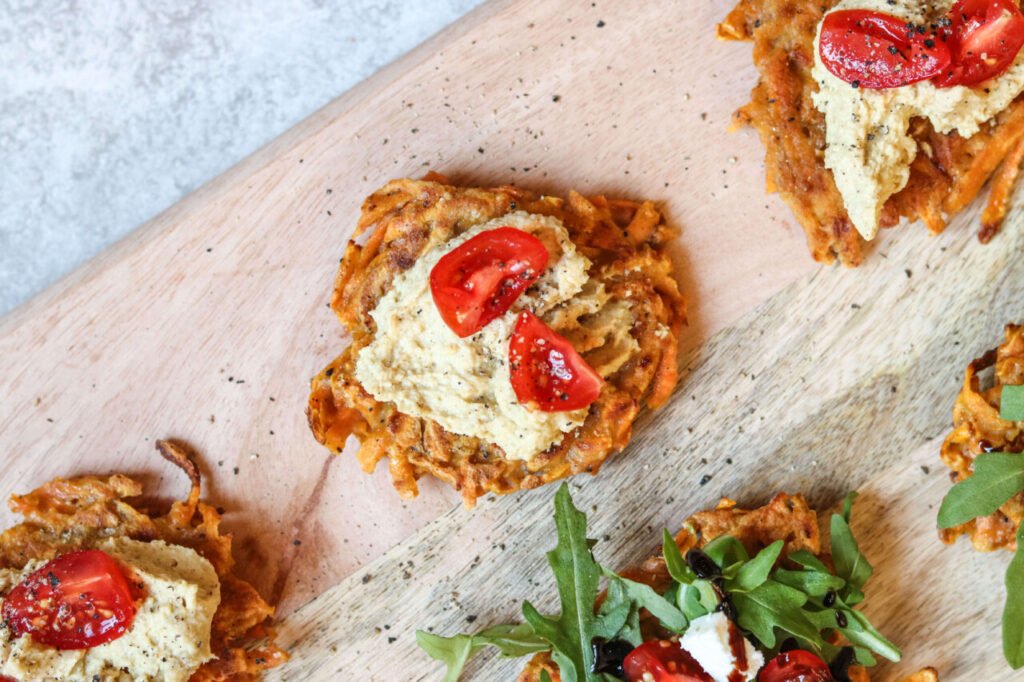 These are a great pre or post-workout meal for people who prefer savoury over sweet, but still want to make sure they're getting their low-GI carbs plus some good quality protein.
What you need:
• 2 cups (300g) sweet potato, grated
• ½ small onion, grated
• 1 clove garlic, crushed
• 2 eggs
• 3 heaped tbsp. buckwheat flour
• 2 tbsp. coconut oil
• ½ tsp. sweet paprika
What to do:
Place the grated sweet potato and onion in a large bowl. Add in the crushed garlic, eggs, flour, season with salt and pepper, as well as the paprika. Mix thoroughly. Heat the coconut oil in a pan, and add a heaped tablespoon of the batter (makes around 16). Fry for around 3 minutes on medium heat, then flip and fry for another 1-2 minutes. Serve with your favourite toppings such as tomato, sour cream, lettuce, fetta cheese and onion.
Chickpea, Sweet Potato & Spinach Curry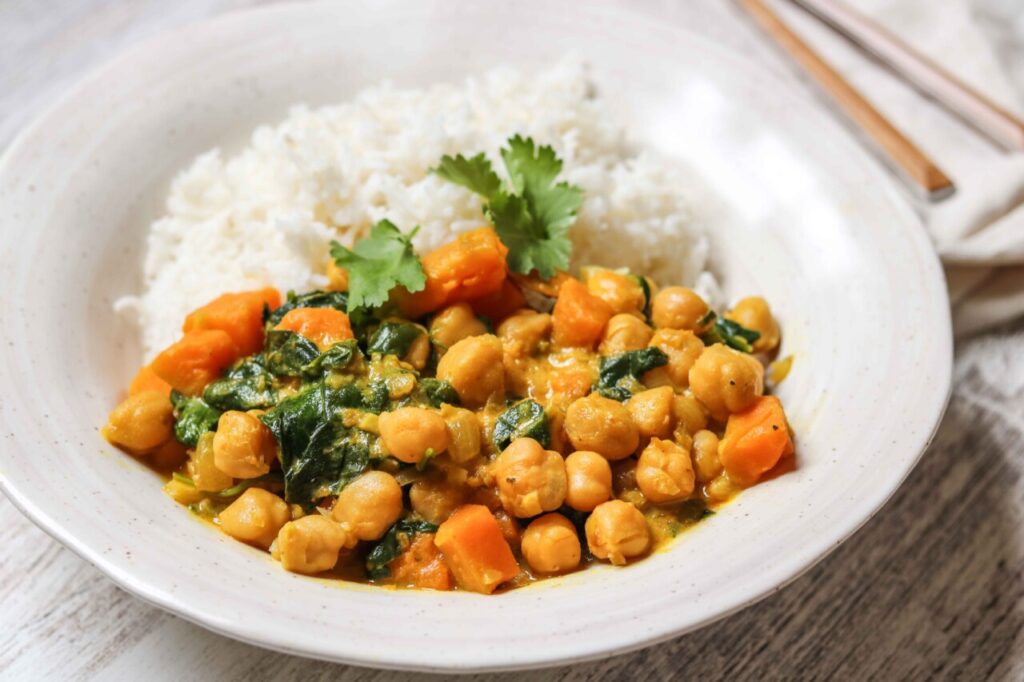 Chickpeas are high in protein and super low in fat, and they're also a good source of fibre, making them a great option for people wanting to build muscle and lose weight. This curry is a great choice for refuelling after a workout, so I recommend having some cooked up in advance to reheat when you need it.
What you need:
• 1 tbsp. oil
• 1 medium onion, chopped
• 1 inch (3cm) ginger, grated
• 2 cloves garlic, minced
• ½ chilli pepper, chopped
• 1 medium sweet potato, peeled, chopped
• ½ tsp of hot pepper
• ½ tsp sweet pepper
• ½ tsp turmeric
• 14 oz. (400g) can chickpeas
• ⅔ cup (150ml) vegetable broth
• 1 cup (250ml) coconut milk, canned
• 3 cups (100g) spinach, chopped
What to do:
Heat the oil in a frying pan, add the chopped ginger, garlic and chilli pepper. Fry often, stirring for about 3 minutes. Add the peeled and chopped sweet potato, season with salt and fry for another 2 minutes, then add the spices and mix well. Next, add the chickpeas along with the brine, broth and coconut milk. Mix everything and bring to a boil. Cook for about 15 minutes without covering, stirring every now and again, until the sweet potatoes are soft. Finally, add the spinach, mix and take off the heat, and wait until it is wilted. Serve with rice or cauli-rice.
Make sure to sign up to my newsletter so you never miss a recipe or workout tip. You'll also receive my free monthly workout calendar, it makes workout planning so much easier! I'm also on Instagram and Facebook, and of course YouTube, where I post fresh workouts every week.
Eat up and enjoy!