Personally, I'm a fan of trusting my gut (pun intended) when it comes to what and when to eat, which means sometimes my breakfast can be as soon as I wake up, while other times breakfast is a mid-morning meal than an early morning one. But regardless of when I have it, I'm a huge fan of brekky. It always feels good for the first meal of the day to be delicious and nutritious.
I truly enjoy food, but I don't want to fuss around too much with it. For that reason, I'm sharing with you my top 3 easy, healthy breakfasts. One of them requires a little bit of prep (see the savoury muffins below), but they're still super easy to make and you can always cook them up in advance.
What about protein? What about carbs? I hear you ask. Well, two of the recipes below (the Savoury Muffins and the Protein Fluff), are low on the carb. This can be great for when you're trying to lose weight. The Cottage Cheese Protein Pancakes are higher carb, which is great for refuelling, particularly on days following a super-gruelling day of lifting heavy at the gym (or in my case, in the garage). All of them have a reasonable amount of protein which assists with muscle recovery.
All that said, there truly are no rules here, and I am a strong believer in trusting your instincts when it comes to food. It's always much better to be kind to yourself, and eat the carby breakfast if you feel like it, rather than guilting-out and have a whole packet of Tim Tams for morning tea. I personally eat a reasonable amount of carb, which I find works well due to my activity level. But I don't overthink it!
Without further ado, here are my top 3 healthy breakfasts. I hope you love them!
Cottage Cheese Protein Pancakes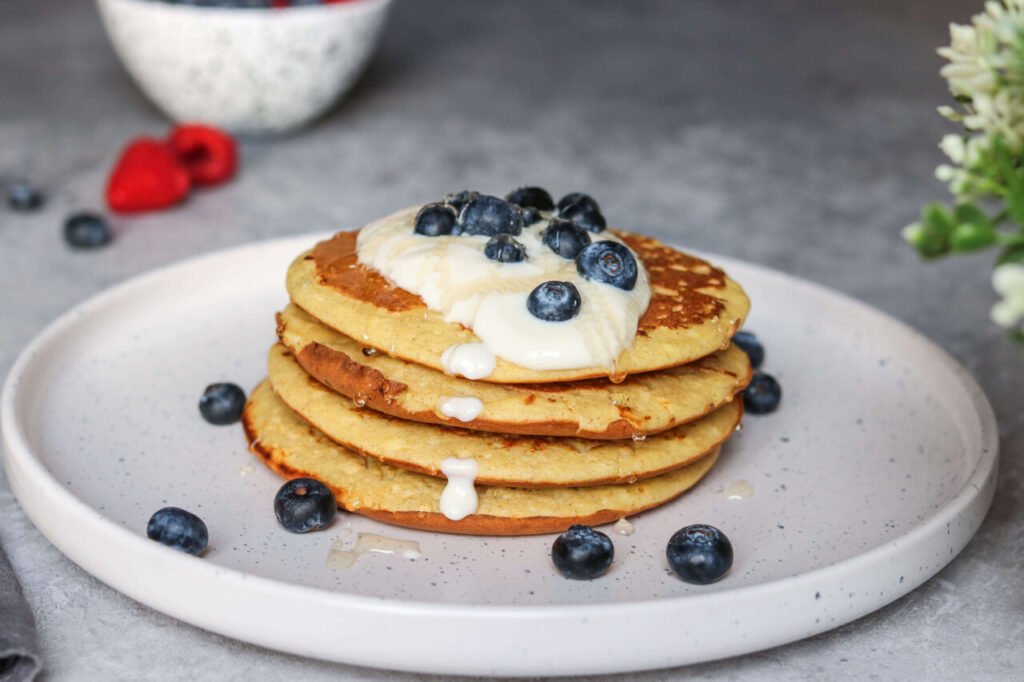 What you'll need:
1 heaped cup (250g) cottage cheese
3 eggs
1 tsp. of vanilla extract
1 tbsp. of coconut sugar
3 heaped tbsp. flour (regular or gluten-free)
What to do:
Place the cottage cheese into a bowl, add egg yolks (keep the whites separate) and crush everything with a fork. Add in the flour, and mix thoroughly.
Whisk the egg whites into a stiff foam and add to the cheese mixture. Gently combine the ingredients.
Heat a dry, non-stick pan and fry the pancakes (about 2 tbsp. of batter per pancake) in batches, for about 3 minutes, until the bottom is slightly browned. Turn and cook for another 2 minutes.
Serve with Greek yogurt, honey, and berries. *chef's kiss*
Nutrition per serving: 162 kcal, 4g fats, 18g carbs, 12g protein.
Egg, Broccoli and Ham Savoury Muffins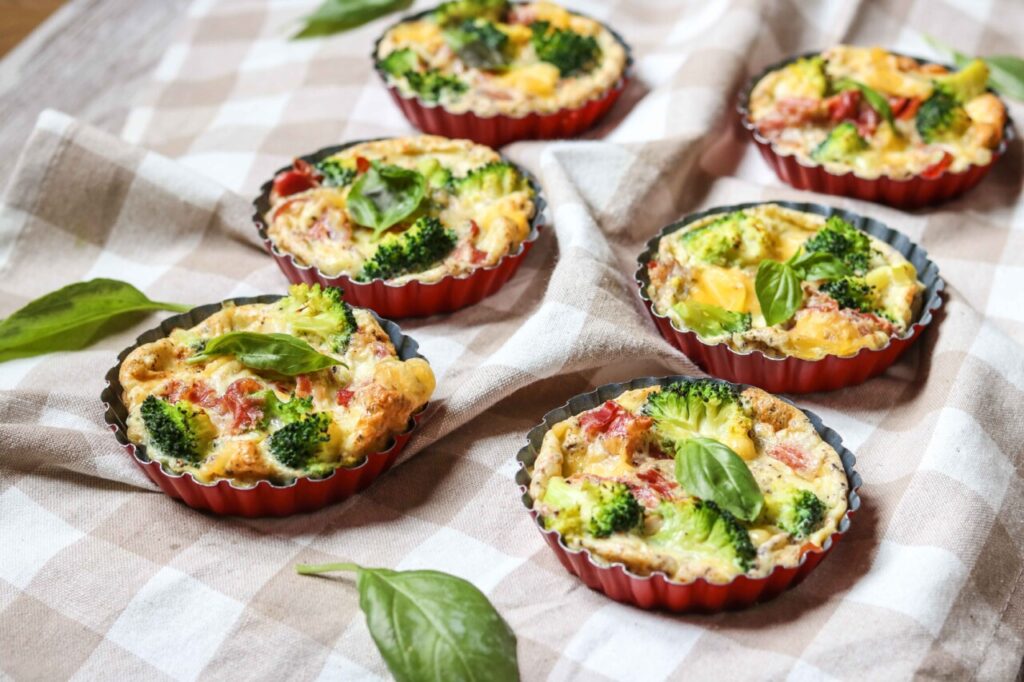 What you'll need:
½ broccoli bunch
5 eggs
1 clove garlic, minced
pinch of chili flakes, optional
4 slices ham, chopped
⅓ cup (30g) grated cheese
What to do:
Preheat the oven to 360°F (180°C).
Place the broccoli in a pot of boiling water and cook for approx. 3 minutes. Strain and cut into small pieces.
Beat the eggs in a medium size bowl, add the minced garlic and season with salt and pepper, and chili flakes if using.
Grease a 6-mould muffin tray with oil or butter, and fill the moulds with evenly divided broccoli, ham, and grated cheese. Pour the beaten eggs into the moulds and bake in the oven for 10-15 minutes, or until eggs have set.
Nutrition per serving: 102 kcal, 6g fat, 4g carbs, 10g Protein.
Peanut Butter Protein Fluff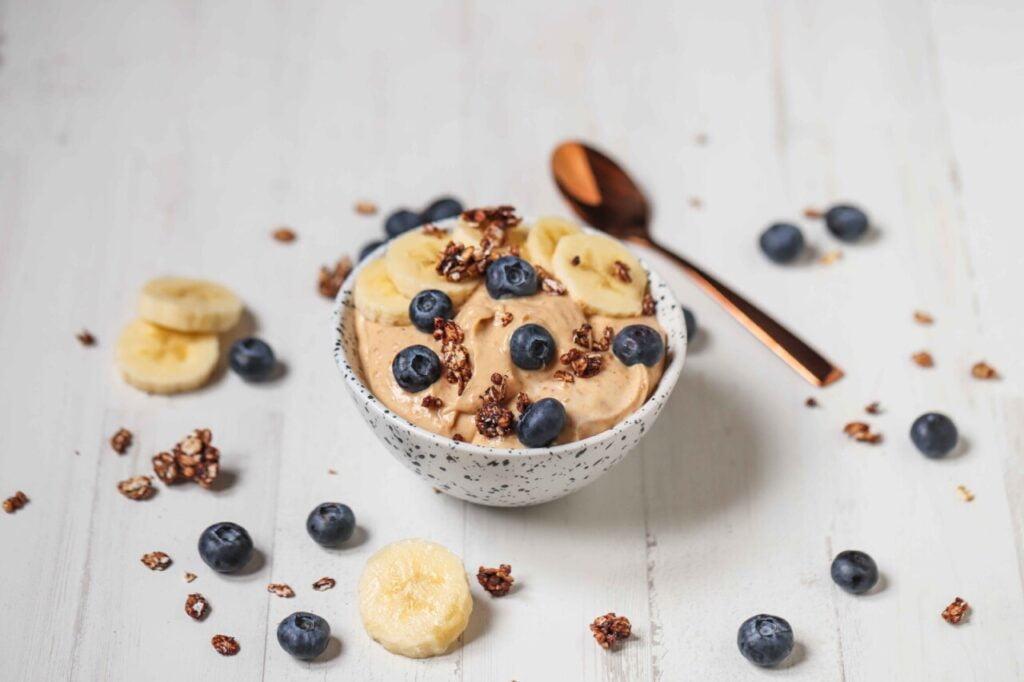 What you'll need:
1 cup (250g) full-fat Greek yogurt
2 tbsp. peanut butter or almond butter
2 tsp. stevia
favourite garnish (banana, granola, blueberries)
What to do:
Add the yogurt, nut butter and stevia into a small mixing bowl and whisk together using a hand mixer, until fluffy.
Transfer the mix into a bowl and top with your favourite toppings to serve.
Nutrition per serving: 244 kcal, 20g fats, 9g carbs, 9g protein.
Make sure to follow me on Instagram and Facebook and let me know which recipe you liked best! And don't forget to join me on YouTube for fresh new workouts every week.

Eat up and enjoy!