As I've mentioned before, I'm really not a fan of diets. I live by the 80/20 rule and try to make sure that my eating is healthy most of the time, and that's about as far as my food-related thoughts tend to go!
I don't calorie-count or add up my macros, although I do include calorie and macro details for most of the recipes I provide on this blog, and for those I share with members of my Garage Fitness Girl YouTube Squad group. I figure everyone is different, and it can't hurt to provide the info!
For me, the 80/20 rule means eating 'real' foods like meat, veggies, whole grains, as the basis of my normal diet. But occasionally, I'll have something not-so-healthy, like a small chocolate bar, without feeling any guilt about it.
I find it's easier to eat healthy most of the time when you have a few decent recipes on hand, and when you don't try to skip meals when you're hungry. A 'normal' day for me can vary quite a lot depending on my hunger levels (I literally trust my gut), but here's a good example of a typical eating day for me.
Breakfast:
These Banana Protein Pancakes are both high in protein and carbohydrates, which is perfect for fueling my morning workouts. I need energy to get through my workouts, so I don't try to deprive myself of a nutritious, delicious and energy-packed breakfast.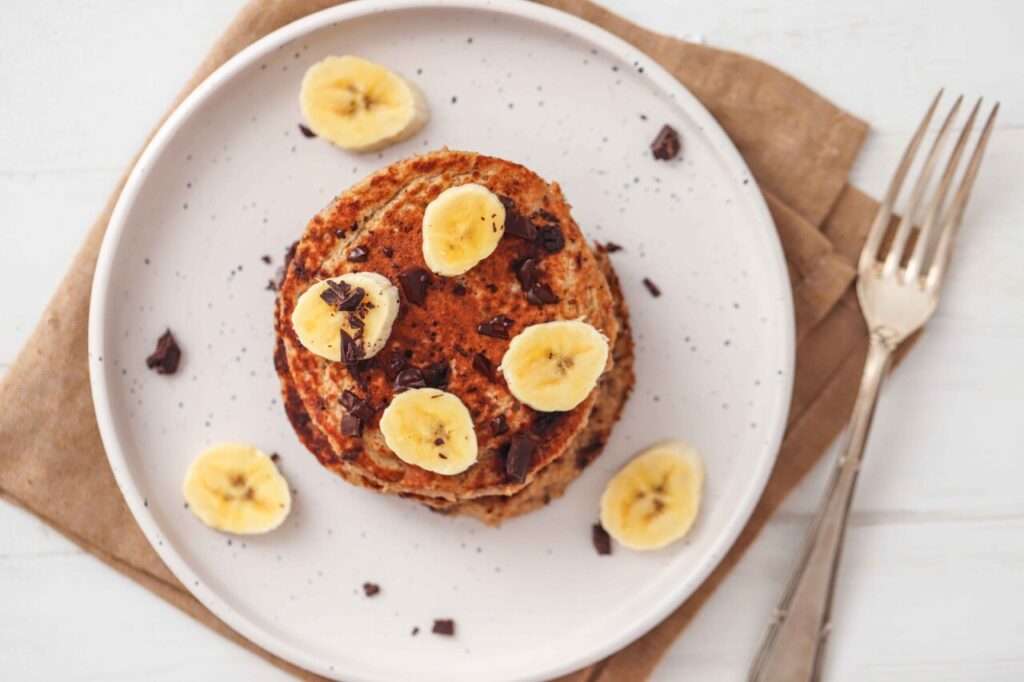 Ingredients:
• 1 cup (90g) oats
• 1 ripe banana
• 1⁄2 cup (115g) cottage cheese
• 1⁄4 cup egg whites (1-2 eggs)
• 4 tbsp. coconut milk
• 1⁄2 tsp. cinnamon
• 1⁄2 tsp. baking powder
• 1⁄4 cup (45g) very dark chocolate chips (75%)
What to do:
Place all ingredients except the chocolate chips into a blender and blitz until smooth. Next, stir in the chocolate chips. Fry the pancakes on a dry non-stick pan, over medium-high heat for 2-3 minutes each side. The batter makes around 6 small pancakes. To serve, top with your favourite toppings.
Makes: 6 pancakes (serves 2)
Prep: 5 mins. Cook: 10-15 mins
Nutrition per 3 pancakes (note: toppings are not included in nutritional information): 424 kcal, 18g Fats, 52g Carbs, 12g Protein.
Mid-Morning Snack:
As soon as I've finished my workout I'll have a post-workout smoothie. I don't like to eat straight after a workout but it's important to refuel within an hour after a workout. 
I love drinking coffee anytime of the day, but straight after a workout can be too much. This Vanilla and Coffee Protein Smoothie (GF, V) is the ideal compromise in my eyes. I use Tropeka Vanilla Lean Protein because it doesn't cause me any bloating or stomach issues.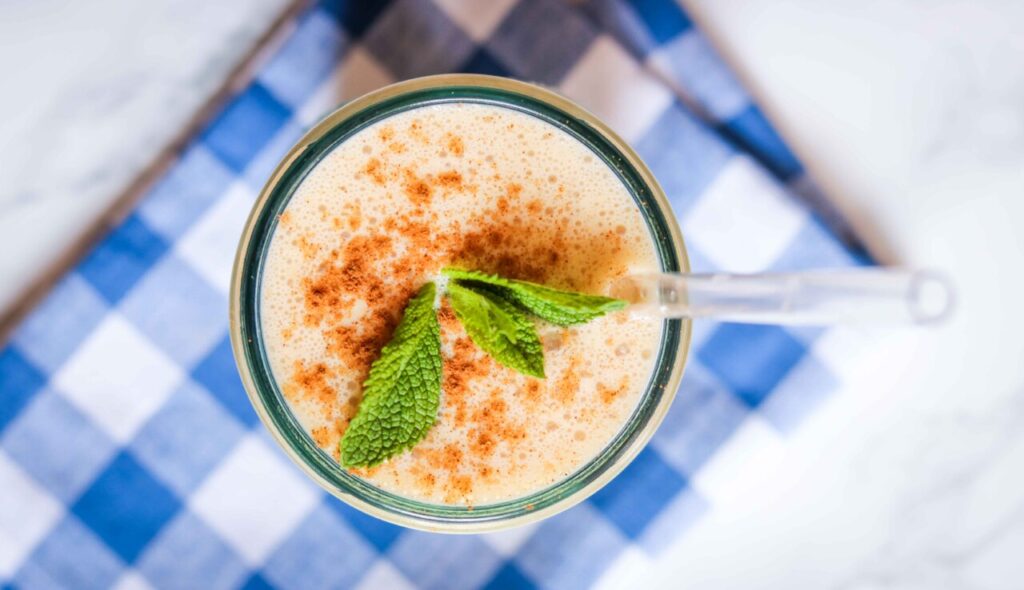 Ingredients:
• 1⁄4 cup (60ml) espresso
• 1 2⁄3 cup (400ml) almond milk
• 2 scoops vanilla whey
• 2 tsp. cinnamon
• 2 tbsp. flax seeds
• handful ice
What to do:
Place all ingredients in a high-speed blender and mix until smooth. Serve cold in a glass.
Serves: 2. Prep: 10 mins. Cook: 0 mins
Nutrition per serving: 174 kcal, 6g Fats, 4g Carbs, 26g Protein
Lunch:
I generally want something easy for lunch, and often grab some of last night's leftovers or make a simple salad. The Cucumber, Avocado & Chicken Salad (GF) is a yummy option for when I have a spare 25 minutes up my sleeve. It's also a great one for when you have visitors for lunch!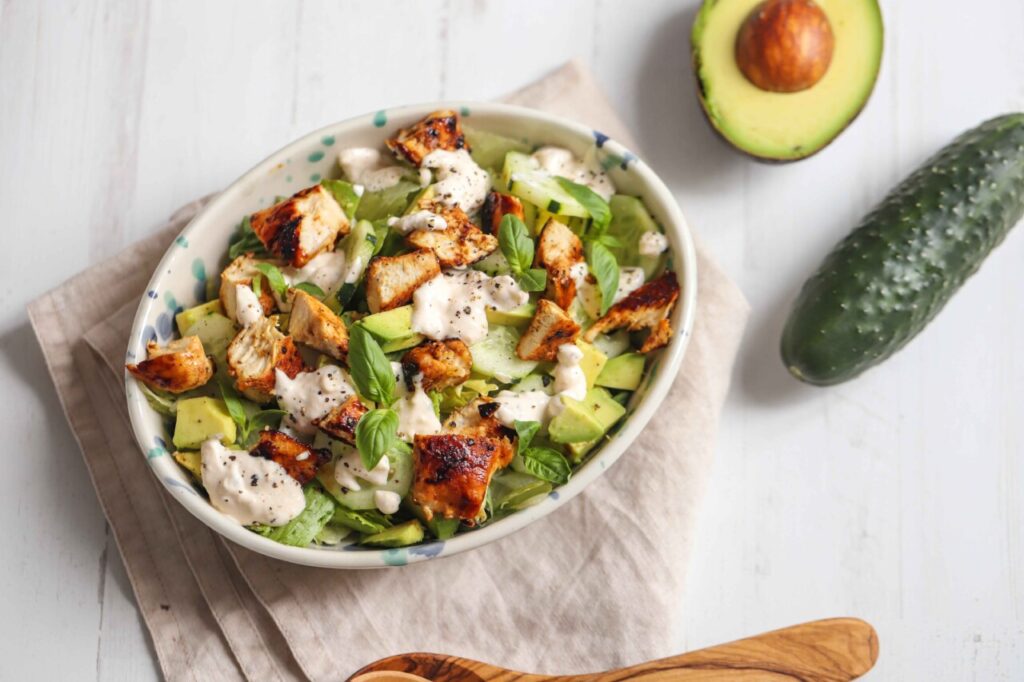 Ingredients:
For the salad:
• 1⁄2 head iceberg lettuce, shredded
• a dozen basil leaves, torn
• 1 avocado
• 2 tsp. lemon juice
• 1⁄2 cucumber, peeled
• 1⁄4 cup (25g) walnuts
For the chicken:
• 2 chicken breast fillets (around 150g each)
• 1 tbsp. olive oil
• 1 tbsp. mustard
• 1 tbsp. honey
For the sauce:
• 3 tbsp. yogurt
• 1 tbsp. mayo
• 1 garlic clove, minced
What to do:
Place the iceberg lettuce into a large bowl. Add torn basil leaves and mix. Divide between 2 serving bowls. Season the chicken fillets with salt and rub with olive oil. Heat a dry pan and fry the chicken for 5 minutes on each side.
In the meantime, mix the mustard and honey. Grease the top of the fillets with half the sauce, then turn and cook for another 1.5 minutes. Repeat on the other side. Once cooked, cool slightly and chop. Cut the avocado flesh into cubes, and drizzle with lemon juice. Peel and slice the cucumber.
Prepare the garlic sauce by mixing all the sauce ingredients. Season with salt & pepper.
Top salads with the chopped chicken, avocado, cucumber, and walnuts. Pour over the garlic sauce, and serve.
Serves: 4. Prep: 10 mins. Cook: 15 mins
Nutrition per serving: 304 kcal, 20g Fats, 12g Carbs, 21g Protein
Dinner:
By night time I usually feel like tucking into something high-protein. This One Pot Turkey Chili with Rice (GF) is a great go-to recipe. Turkey mince is relatively inexpensive, low fat and super high in protein. A dish like this is simple to make and great for leftovers for the rest of the week.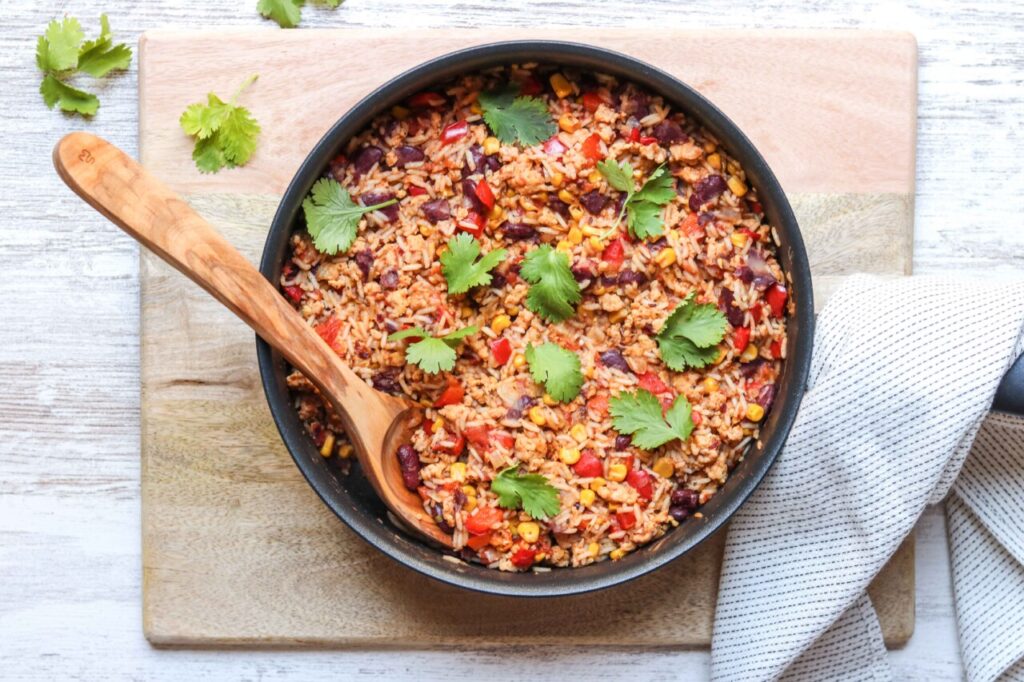 Ingredients:
• 10 oz. (300g) minced turkey fillet
• 1⁄2 cup (115g) rice
• 1 medium onion, finely chopped
• 2 cloves garlic, minced
• 1 tbsp. oil
• 1⁄2 can chopped tomatoes
• 1 red bell pepper, chopped
• 1 cup (250ml) vegetable broth
• 1⁄3 cup (60g) red kidney beans, drained
• 1⁄3 cup (85g) sweet corn, drained
• 1⁄3 cup (30g) grated cheese (optional)
Spices:
• 1 tsp. dried oregano
• 1 tsp. cumin
• 1 tsp. sweet pepper
• 1⁄2 tsp. hot pepper
• 1⁄2 tsp. salt
• 1⁄3 tsp. ground pepper
What to do:
Heat the oil in a large pan and sauté the onion and garlic for 3-4 minutes. Next, add the meat and fry for about 5-6 minutes until cooked throughout.Add spices, mix, then add the uncooked rice and mix again.
Next add the chopped peppers, beans, corn, canned tomatoes and broth. Mix and bring to a boil. Simmer covered on low heat for about 17-20 minutes. Add grated cheese, cover and heat for another 2 minutes until the cheese melts, then serve.
Dairy free option: cheese in this recipe is optional, so if you prefer a dairy free meal, just skip the cheese or replace with a vegan version.
Serves: 4. Prep: 10 mins. Cook: 25 mins
Nutrition per serving: 295 kcal, 9g Fats, 21g Carbs, 31g Protein
Dessert:
I won't deny having a sweet tooth! This Chocolate Chia Pudding is a delicious option for when you feel like you want a healthy sweet treat. Chia seeds are high in fibre and help keep you fuller for longer. Plus if you don't like chocolate or you want to mix it up, you can take the base of this recipe and create a bunch of different variations including, vanilla, mango and berry.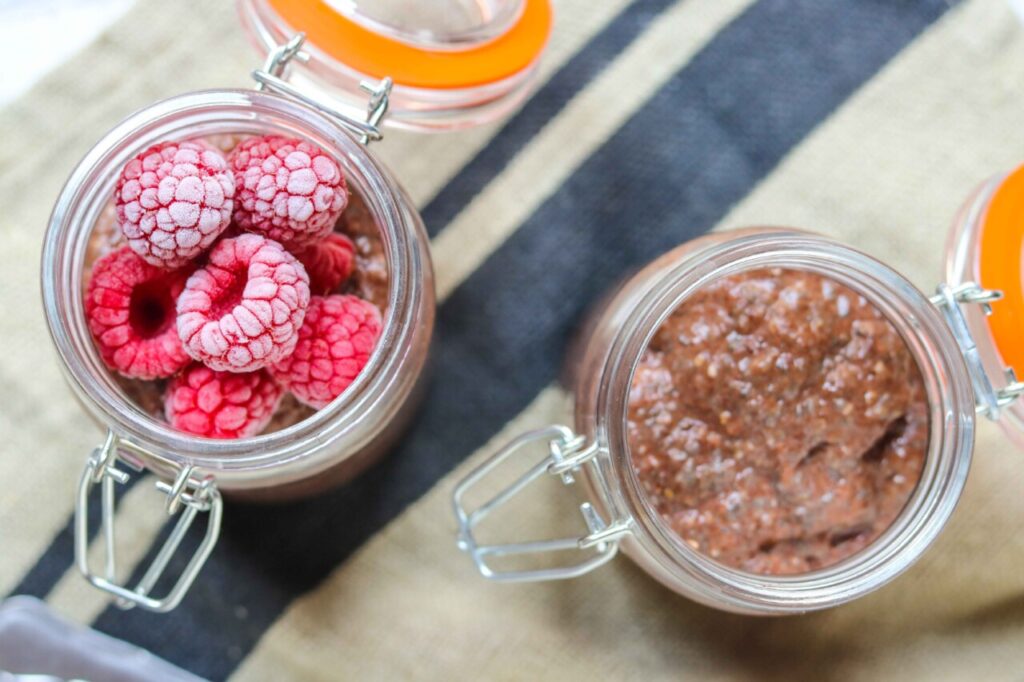 Ingredients:
• 1 cup (170g) chia seeds
• 3 cups (700ml) coconut milk
• 1 scoop (25g) vanilla protein powder
• 1 tsp. vanilla extract
• ½ tsp. cinnamon
• ¼ tsp. espresso powder
• 2 tbsp. cocoa powder
• 2 tbsp. maple syrup or other sweetener
• 1 cup (125g) raspberries, frozen
What to do:
Blend all the ingredients in a high-speed blender or food processor until most chia seeds are broken down and the pudding is thick and creamy. Portion out into jars or small bowls and top with frozen raspberries. Store in airtight containers for up to 4 days. Serve cold.
Serves: 4
Prep: 10 mins
Cook: 0 mins
Nutrition per serve: not available for this one (although I do know it's low-carb and high-protein).
Enjoy!
🍫 🍛 🥕 🍏
So there you have it, that's a pretty good example of what I'm eating on an ordinary day. I firmly believe in keeping it simple and I like to enjoy my food, rather than stress over it. If you have any healthy recipes you absolutely love, please share them with me!
Don't forget to subscribe to my YouTube channel and tick the notification bell so that you never miss a new follow-along workout. I'd also love for you to follow me on Instagram and Facebook.