We all love occasionally splurging on some new gear, but none of us like it when we use our hard-earned money on the wrong things!
I've written down the top 5 things that I think are totally worth buying when it comes to health and fitness, as well as the 5 things that you really don't need. In the case of the latter, save your money for better things!
5 Things to Splurge On:
#1 A supportive and comfortable sports bra (or two!)
A good quality sports bra is invaluable when you're working out, especially if you'll be doing any high-impact running or jumping in your workouts. They can seem a little pricey, but the extra support will be worth every penny. Plus, it's a fact that cute activewear makes you more motivated to workout!
Some of my favourites are:
Ultra V-Neck Sports Bra
The Ultra V-Neck Sports bra is high support, with four-way stretch fabric for freedom of movement. It's also fully lined and has removable padding, and I think the v-shape makes it quite flattering. Get an extra 10% off when you use my code PENNY.
NKD Align Sports Bra
The NKD Align Sports Bra is a high-level support bra that also has removable padding. It has sweat-wicking to keep you dry and four-way stretch sueded interlock for unrestricted movement. I like the thick band that means it won't move around! Get an extra 10% off when you use code PENNY
#2 A good quality pair of black leggings or shorts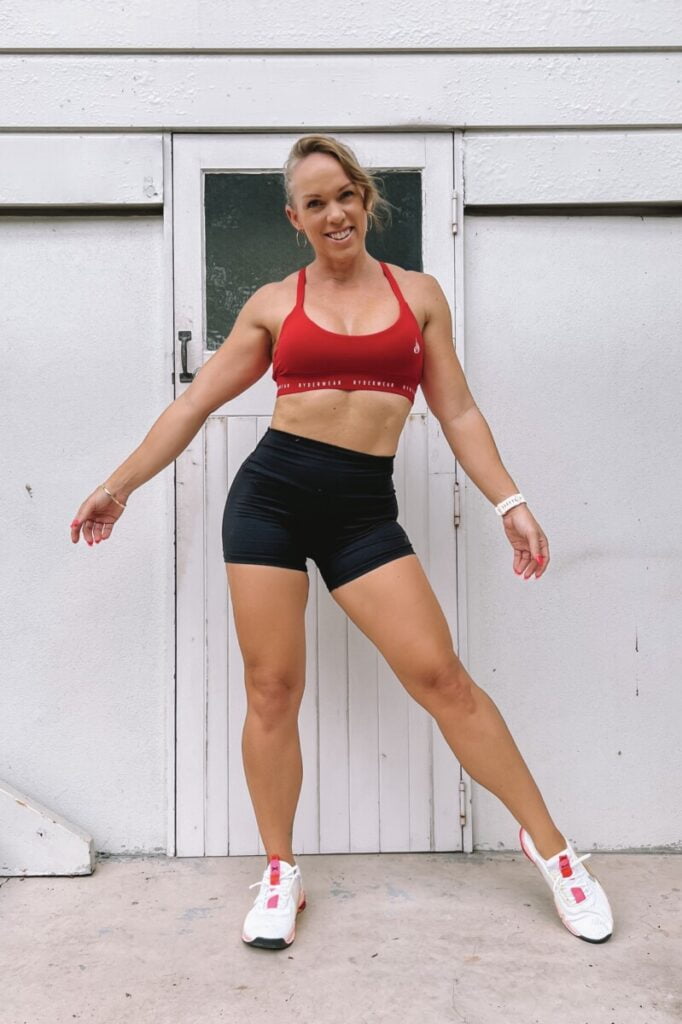 Investing in good workout clothing might seem like a waste of money, but you'll be surprised how quickly a cheap pair of leggings will fall apart when you're wearing them every day!
I personally believe it's a good idea to invest in at least one pair of high-quality black leggings. Not only will you remove the worry about patching up holes or feeling self-conscious about see-through material, but you'll also be able to create multiple outfits.
Some of my top picks are:
Sculpt Seamless Leggings/High Waisted shorts
Are you a leggings girl, or are you a shorts girl? Either way, you're covered!
These Sculpt Seamless Leggings/High Waisted Shorts have a compressive ribbed waistband for extra support and contour panel details to accentuate your curves! As with all good exercise clothing, they also have four-way stretch for freedom of movement.
I love these shorts because they compress and flatter in all the right places. Get an extra 10% off when you use my code PENNY.
Base High Waisted Shorts
With a fold-over waistband for peak comfort and four-way stretch fabric for freedom of movement, these mid-length shorts provide extra coverage (I'm pictured here wearing my Base High Waisted Shorts with a Ryderwear Reflect Cross Over Sports Bra).
Get an extra 10% off Ryderwear gear when you use my code PENNY.
#3 Workout Mat
My workout mat is like my training sidekick. There's something about having a good quality workout mat that gives my training more importance and meaning. It also helps protect your carpets or hardwood floors which gives you a little peace of mind when you're getting your workout on, without having to worry about whether you're scratching up the floors! They're also shock absorbent which helps to reduce noise (so you won't annoy the neighbours) and helps you avoid injury.
The mat I choose to workout on is the S36 Large Fitness Equipment Mat 10' x 6'. Get 10% off when you use code garagefitnessgirl10
#4 Kettlebells
Dumbbells are awesome and you should definitely have a set if you're working out at home, but adding a kettlebell to your equipment arsenal can take your workouts to a whole new level. Kettlebells are perfect for at-home workouts because they take up almost no space and can be used to perform almost every exercise. They can help you get stronger and build endurance, and they can add that little bit of spice to your workout routine when the same old dumbbell exercises are getting a bit stale. They're also extremely budget-friendly!
I get my kettlebells from Kettlebell Kings, use code GarageFit10 to save 10% off your order!
#5 A good quality protein powder
Spending the extra money on a quality protein instead of buying a cheaper supermarket one is worthwhile if you're keen to skip the chemicals, additives and sugars! I choose plant-based protein because it seems to be more gentle on my stomach (everyone is different!) and my favourite is the Tropeaka Vanilla Lean protein, which goes with just about everything.
I use it every day on my oats, in smoothies and in baking. Use code PENNY15 to save!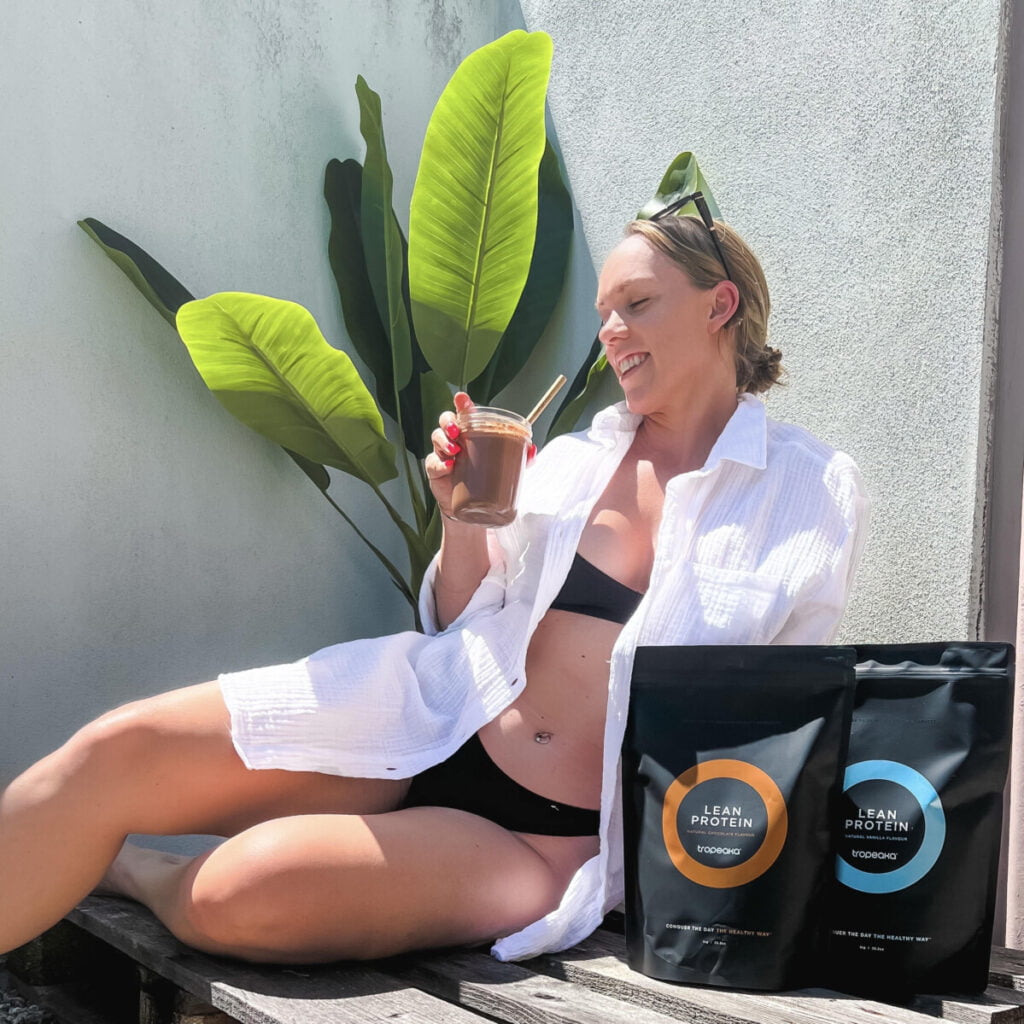 5 Things to Save Your Money On:
Below are the things you can save your money on. Don't buy big – get these things for less!
#1 Shirts
Don't waste your money on expensive shirts, as long as the material is breathable and stretchy, you should be fine stocking up on cheaper options. I like Kmart and Target for shirts and tanks that look and feel good but won't break the bank.
#2 Drink Bottles
I'm definitely guilty of spending money on water bottles because they looked pretty, only to find them rattling around in my cupboards months later. The key is to find something that you actually enjoy drinking out of. When I'm working out, I love a pop-top and I need my water to be cold, so I always go for something stainless steel. Despite all my overpriced purchases, I always end up going back to my trusty (and cheap) Kmart water bottles. They're just so inexpensive and it helps to remember that. At the end of the day, it's just a bottle that holds water!
#3 Gym Towels
Gym towels are all the same, no matter what the price tag! Grab them wherever they're cheapest and save your money for pretty clothes instead.
#4 Adjustable Dumbbells
They might seem like a space and money-saving dream at the time, but if you're doing follow-along workouts (like my YouTube workouts) and circuits that require changing weights, they can soon become a real pain. Instead, spend your money on a light and moderately heavy set of dumbbells and a kettlebell – they'll take up about the same space, cost the same if not less, and they'll give you a tonne more flexibility without all the hassle.
#5 Expensive Programs and Apps
Why spend the money when you can get all your fitness needs for free by following along with my YouTube workouts?! Need a daily plan to follow? Sign up for my weekly newsletter and get a FREE workout plan delivered to your inbox, a new one comes out each and every month!
Enjoy your training!